LEARN THE SECRETS of INSPIRED LEADERSHIP FOR WOMEN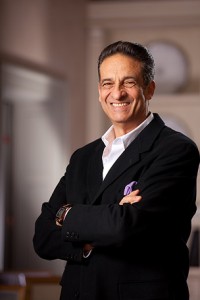 Every organization must have someone who leads it, but how many of those leaders are really fulfilled by their position? How many can lead by inspiring their teams to perform at maximum capability, for the pleasure of the work instead of the tyranny of the paycheck? True leaders are excited, fearless, and more interested in the product and its effect on the community than the amount of money to be made. Their teams feel satisfied and fulfilled, eager to accept the next challenge. There are secrets to being this kind of leader and James Cusumano Ph.D is going to explain them.
THE JAMES CUSUMANO STORY
Today you will meet an amazing leader. His exciting careers spans being a Rock Star, a PhD Chemist, an executive at Exxon, founding a multi million-dollar Silicon Valley company, becoming an acclaimed movie producer and now owning a five-star hotel, spa and business conference center near Prague were he teaches his unique formula for being a great leader.
JAMES WILL TEACH YOU HOW TO BE A SUCCESS
Throughout his several careers, James Cusumano has always pursued his passions, allowing him to find true purpose and balance in life. He has outlined his insights and techniques in his two books, "Cosmic Consciousness," and the compelling new volume, "Balance: The Business-Life Connection." He has a marvelous ability to translate a lifetime of varied experiences into down-to-earth steps anyone can take to make the most of life in any arena.
Leadership for Women and Executive Business Coach Sabrina Braham and James Cusumano Discuss:
The necessity of knowing the true purpose of your life so you can create your own reality.
Why listening is the most important ability to nurture while you stand on the "Shoulders of Giants."
The four questions to ask yourself so you can discover what's really important to you.
"The Fulfillment Formula" sequence you can follow to achieve what you truly want.
The three ways to look at your work to determine which level you want to attain.
The difference between "shareholders" and "stakeholders" and how if affects an Inspired Leader's commitment.
How fear engenders "negative energy vampires" who can destroy a team and cripple a company.
Why the 20 Question Performance Review gives a more accurate picture of a person's strengths and areas needing additional training than the 360 Review.
The value of a corporate "love note culture" in performance assessments.
Women leaders are often at a disadvantage when it comes to getting ahead in business.
Help us enhance leadership for women!
Click on Audio Player below to Listen to Women's Leadership Success Interview