Rayona Sharpnack states that, "Leadership isn't about doing, it's about being."
Join women's leadership executive coach Sabrina Braham  and Rayona Sharpnack, founder of the Institute for Women's Leadership, to learn how you can be a better leader by understanding and transforming yourself.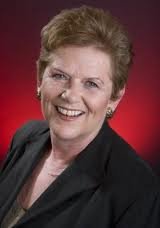 With over 40 years of teaching leadership to business people (mostly women), Sabrina and Rayona agree, you are more likely to succeed if you concentrate on transforming your mental framework, rather than memorizing mechanics.
Sabrina is pleased to have Rayona as a guest. She is the founder of the Institute for Women's Leadership and author of Trade Up: 5 Skills for Redesigning Your Leadership and Life from the Inside Out and Enlightened Power: How Women Are Transforming the Practice of Leadership.
Career Development for Women
Sharpnack states the importance of your personal operating system, or your "inheritance", through a process of understanding, and unlearning what you assume to be true about what you can (and can't) accomplish, and how it will change your life and your leadership style.
In this Rayona Sharpnack interview you will learn:
How to acquire career development competency.
Why only two things can come from practice.
The one thing you must have to lead leadership change.
Learn how to make sure that your amazing work gets noticed.
Find out the three key areas women need to accelerate a promotion.
Thought provoking tips to improve your life.
Click on Audio Player below to Listen to Women's Leadership Success Interview