Dianna Booher, CSP, CPAE Biography for Women's Leadership Success
Dianna Booher Interviews with Women's Leadership Success:
Creating Personal Presence: Look, Talk, and Act Like a Women Leader
Dianna Booher is the author of 47 books (available in 60 foreign-language editions, with nearly 4 million copies sold). She is pleased to be published by some of the top publishing houses in the world: Penguin Random House, Simon & Schuster/Pocket Books, HarperCollins/Thomas Nelson, McGraw-Hill, and Berrett-Koehler.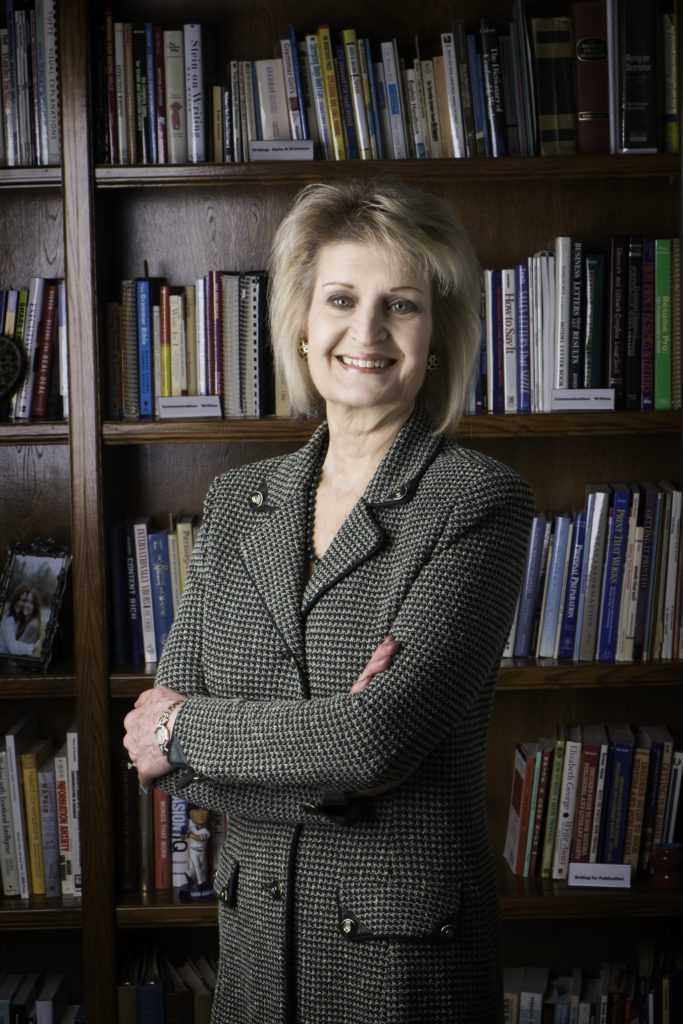 PBS, Encyclopedia Britannica, SkillSoft, Nightingale-Conant, America Media, ModelOffice, InterCom, and MADE for SUCCESS have also made her work available in many other formats for today's audiences: audio, video, DVD, and online training.
Dianna's work has also won its share of recognition. Several titles have been major book club selections, and others have won national industry awards and recognition:
National Industry Awards and Recognition:
American Library Association: Best Young Adult Non-Fiction of the Year
Executive Soundview Summaries: Best Business Book of the Decade
Richtopia's Top 200 Most Influential Authors of the World (2017)
Newbridge Executive Book Club—Main Selection
Macmillan Executive Book Club Selection
Fortune Book Club Selection
Writers Digest Book Club Selection
Business Week Book Club
Book-of-the-Month Club (alternate selection)
Money Book Club
C-Suite Book ClubDianna Booher has been delighted to speak at venues all around the world, including numerous international conferences in the United States, South America, Europe, the Middle East, and Asia. Consequently, she has received the highest awards in the professional speaking industry, including the following honors:

·         —IBM's Star Quality Award (for highest-rated outside speaker during the year)

·         —Frito-Lay's Minority/Woman-Owned Supplier of the Year Award
(overall impact on the organization for her training, coaching, and keynotes)

·         —Speaker Hall of Fame® (induction by National Speakers Association)

·         —Legend in the Speaking Industry (induction by Veteran Speakers Group)

·         —Top 100 Thought Leaders in America (Leadership Excellence magazine)

·         —Top 100 Minds in Personal Development (Leadership Excellence magazine)

·         —21 Top Speakers for the 21st Century (list by Successful Meetings magazine)

·         —Cindy Award in the New York Film Festival–Corporate Training Division)

·         —Top Leadership 500 (by Leadership Excellence–multi-year lists)

·         —Global Gurus Top 30 Communicators (multi-year lists)

Communication flaps and mishaps regularly make the news. That's when the media solicit Dianna for opinions on critical workplace and family communication issues.  She has been interviewed by Good Morning America, USA Today, Forbes.com, The Wall Street Journal, Fast Company, FOX, CNN, CNN International, CNBC, NPR, Dr. Laura Radio Show,The New York Times,  The New York Post, Washington Post, New York Newsday, Bloomberg, Boardroom Reports, Investor's Business Daily, Industry Week, Success, Entrepreneur, Glamour, Real Simple, Working Woman, among other national radio, TV, and newspapers.

On any given weekend when Dianna's not spending time with family or friends, working on her next nonfiction book or novel, writing a blog, she's researching. As she explains it, that research takes many forms: Reading the latest research study from academia. Combing through social media for the latest stats on her keywords. Listening to an interview.  Watching a movie to analyze structure and character development.  Visiting a new culture or setting for her next book.

In Dianna's own words, "I'm a mediocre cook, a dreadful decorator, and a deadly gardener. So I might as well make better use of these hands and eyes."

Founder of Booher Consultants, a communication training firm, and then more recently founder of Booher Research Institute, Dianna has worked with more than a third of the Fortune 500 organizations and more than a dozen federal agencies to improve the way they communicate.  Clients have included IBM, Exxon Mobil, JP Morgan Chase, Bank of America, Lockheed Martin, Boeing, PepsiCo, Raytheon, M.D. Anderson Cancer Center, American Airlines, Texas Instruments, NASA, the U.S. Navy, and the U.S. Army.
Visit Dianna Booher's keynotes page.