Who is Susan Combs Texas Tenacity Author?
Listen to Susan's interview with Sabrina Braham MA PCC Here
Susan Combs is a common sense, no-nonsense public servant who changed the face of government while assuring that free enterprise thrives. As a business leader, Combs has managed her cattle ranching operation for more than 30 years on land in the Big Bend area of Texas that has been in her family since 1882.
While some may talk loudly, Combs actually gets things done. This problem is common to any level of government, as well as to the business community. Combs chooses to lead using her intellect and determination to solve problems and to forge the way forward.
Combs has been featured in the Wall Street Journal Online, the Washington Post, TIME magazine, Fox News, Bloomberg, Bond Buyer, and other state and national media outlets. Additionally, she has contributed to the Wall Street Journal, TownHall, Houston Chronicle, Austin American-Statesman, Washington Times, USA Today,  and Investors Business Daily.
Combs is direct, and wins high marks for her ability to get to the heart of the matter at hand. A former state representative and Texas' first female Agriculture Commissioner, she is also known for her work as former Texas State Comptroller where she streamlined tax processes, which shortened refund time by 78% and decreased response time to taxpayer inquiries by two-thirds.
As a speaker Susan Combs talks about the challenges of being a woman in a leadership role, but that's not her only specialty. For her work in helping combat childhood obesity, she was featured in the HBO multi-part series, The Weight of the Nation, as well as numerous newspapers and TV programs. Combs also talks on best practices and knows how to bring out peak performance in both business and government. After all, this is a person who issued over 50 policy reports on government efficiency, natural resources, state spending and debt, the effects of obesity costs for business, public and higher education, water and other pertinent topics. She also draws upon her experiences as a business owner, drawing parallels between her audiences' challenges and those she's faced as a Texas rancher.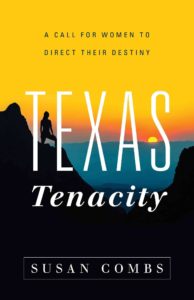 Now that her time as Comptroller has come to an end, Combs is currently working with Lone Star Success, an online effort dedicated to showcasing the social and economic strengths of the state of Texas. As a speaker, she brings her knowledge and experience in business and politics to the people. She made state government work smarter—and she can help you do the same for your business or organization.
Most recently, Susan has authored an inspiring book titled, Texas Tenacity: A Call for Women to Direct their Destiny, where she speaks on her life experiences that directed her future and motivated her steadfast determination to succeed. Texas Tenacity is a reflection of Combs' tenacity by highlighting her ability to overcome obstacles and use her personal strength to push forward in her career.
It's available for order on amazon here:
Thank you Susan Combs Texas Tenacity author, speaker and public servant!