Successful Businesswomen or Imposters?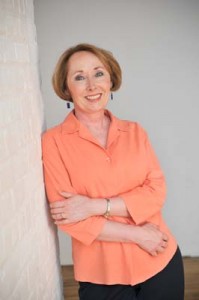 Whether you were given a promotion or are in a new job or have returned to the work force after a few years at home waiting for the kids to go to school, you've probably felt as if it's all a bit overwhelming. You may think you're not really as accomplished as your colleagues believe. You pat yourself on the back for fooling everyone into thinking you really know what you're doing. Others may view you as an articulate, experienced and highly successful businesswoman, but you look in the mirror and see an actress playing a part.
It's called the Imposter Syndrome and a majority of women, at every level, are victims. Perhaps it's because we were raised to turn away from praise. It wasn't "ladylike" to acknowledge our accomplishments. Maybe our mother or grandmother told us boys wouldn't like us if we were too smart. It could be that someone laughed when we tried something difficult and failed. Or even worse, ridiculed us when we succeeded.
Whatever the cause, our secret feeling of "I'm not good enough" is holding us back. The cure comes from identifying the Imposter Syndrome and working to overcome it. That's what we'll learn to do in this podcast.
Valerie Yound Learned from Experience
Valerie Young realized she was a victim of the Imposter Syndrome when she was in graduate school in the 1980s. It became the center of her research, the subject of her doctorate dissertation and the focal point of her career. Now she has written The Secret Thoughts of Successful Women: Why Capable People Suffer from the Impostor Syndrome and How to Thrive in Spite of It. Published by Random House, it's currently being reprinted in three languages.
Besides her work as seen at ImpostorSyndrome.com, Valerie is also the founder and "Dreamer in Residence" at ChangingCourse.com where over 23,000 people around the world read her newsletter that teaches how to make a living doing what you love. She has spoken at over 60 prestigious colleges and universities and addressed audiences at some of the nation's largest companies and associations. Her career-related tips have been printed in publications around the world.
Valerie Young Shows Women the Way to Career and Business Success
Executive business coach Sabrina Braham & author Valerie Young discuss: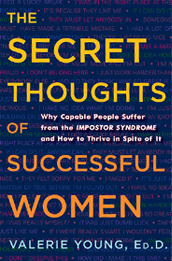 What the Imposter Syndrome is and who is most likely to suffer from it.
The different imposter behaviors that are seen in even the most successful businesswomen — and ways can we can change them.
The different kinds of confident behavior as outlined in Valerie's "Confidence Workbook."
How a simple definition of fear can help overcome panic when faced with speaking to an audience.
Ways we can follow the example of other successful businesswomen by daring to step outside the box and do something unexpected.
Why women internalize our chronic self-doubt much more often than men. (Be sure to listen for the L'Oreal story!)
Why it can be healing to remember the old adage: Fake It Till You Make It!
The importance of "reframing" and "normalizing" to overcome feelings of inadequacy.
The "Dirty Little Secret" about the Imposter Syndrome that we all have to know — and how knowing it will help successful businesswomen work through our lack of confidence and accept the accolades we've earned.
What has been your experience around confidence & Valerie's Tips?
Click on Audio Player below to Listen to Women's Leadership Success Interview