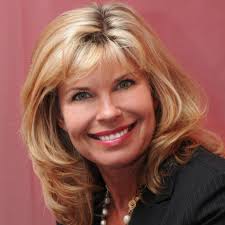 So picture this…
A humble cocktail waitress – with only a high school diploma – pulls herself out of poverty – then develops a foundation worth millions, to help people move to a better life.
So how does this relate to you?
People want to be part of something bigger than themselves. Women leaders who paint a vision of a future where there is a way to help each other and their communities, excel at increasing employee morale in the workplace.
That's why you are going to love our guest today. You will broaden your perspective of how you can use giving to enhance your life, your job and employee morale.
Carrie Morgridge is Vice President of the Morgridge Family Foundation. She is recognized nationally for her work as a philanthropist, student advocate and the creator of innovative professional development for teachers.
Carrie is practically "Superwoman".
Listen to her sage advice below and read Carrie's detailed bio here.
---
"…Morgridge reminds us that we are a nation of "difference makers" and encourages us to continue that legacy of meaningful giving through her empowering stories of those who have made a difference."
Douglas Conant, Chairman, Avon Products; Chairman, Kellogg Executive Leadership Institute; Founder & CEO, ConantLeadership; Former CEO & President, Campbell Soup
---
 How women leaders impact employee morale through giving WLS #69 highlights:
Why giving taps into your core values and amplifies them
Hear how a team's gift to itself changed employee morale
Ways to teach children to effectively give back
How leading the giving program in your company will increase your brand and influence.
New strategies to get on a corporate board
The magnified power of women working together collectively, to change their organizations and community.
If you want to make a difference, listen today to see how you can use giving to increase your passion, brand and influence.
Can you do me favor? I would really appreciate you giving m a great review too.
Every great review we get allows more women to discover the show and helps them succeed.
Please visit iTunes and subscribe to Women's Leadership Success podcast. Also I really appreciate you sharing my show with your friends and associates.
Click on Audio Player below to Listen to Women's Leadership Success Interview #69